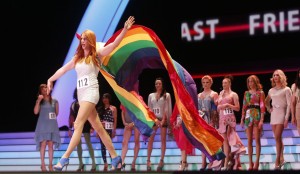 Drag Queens wanted! Friends false eyelashes and impressive high heels beware: The Berliner CSD eV and the Friedrichstadt-Palast invite on Friday, 10th , 2013 for the first time to a large drag casting Walk in the federal capital. Drag queens from all over Germany are called to represent their home town or their state at the largest theater stage in the world.
With catwalk coach ERNEST LOOK
We are looking for drag queens for the Grand Finale Gala for the official capital Berlin CSD. The gala is the Grand Opening for the annual Pride Week. Under the watchful eye of trainer ERNEST LOOK catwalk and a jury show divas from all parts of the Republic of their own particular walk.
Do you know or are an amazing original drag artist who should be featured here? Let us know through an email at darryl@dragqueens-oftheworld.com.