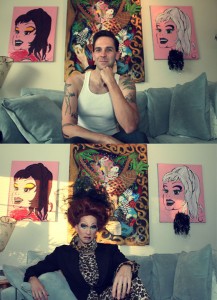 Have an arsenal of colors available at your fingertips. If you don't have the resources, pick out a light color for highlight, a darker color for contouring the lids, and a a color to compliment the outfit you will be rockin'.
1. The first step is to start with a clean face, and trim the eyebrows. Both are something you should do on a daily basis. For drag makeup especially, you must get the eyebrows out of the way.
2. Apply spirit gum on the brows, and press into skin to flatten them. You can also use mustache wax, and powder it.
3. Now, on to the nose and scar wax technique. This is the material that is used to create a witch nose and scars, and is typically used in theatrical make-up kits. You want to cover the whole entire brow, to make a nice, even surface. Then cover with translucent powder. You can find the spirit gum and wax at local outlets such as Theatrical Costume Company or Norcostco.
Click here to see and read more