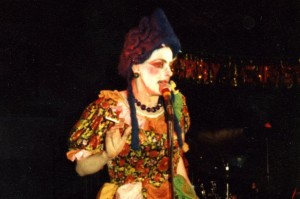 HE might be famous for his turn as foul-mouthed spin doctor Malcolm Tucker, but Capaldi has far more lady-like behaviour hidden in his youth.
WEARING a multi-coloured frock, purple wig and with layers of thick white make-up, Who could this be?
Peter Capaldi, of course. And we bet he'd like the Daleks to exterminate our exclusive pictures.
Do you know or are an amazing original drag artist who should be featured here? Let us know through an email at darryl@dragqueens-oftheworld.com.