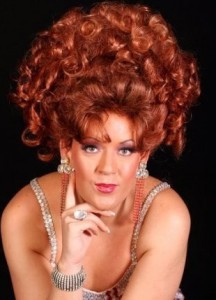 Residents and regular visitors will know that Gran Canaria is awash with drag queens. They tend to leap out of every corner and you will find that even the most unlikely guy having a quiet drink next to you in Playa del Ingles will turn out to be a drag queen having a night off or planning to be one very shortly! A few are quite awful, most are rather good and a very few will beat the tights off any other drag queens in Europe! It is time to go drag queen talent spotting again…
Belinda Scandal, and her partner Skye, are two local drag queens who have impressed me over the last two years. The "highly put upon" Belinda is a parody of a certain type of Northern female often portrayed in the seaside farce – a dry wit, self critical, a good listener, worldly wise and never lacking in advice – the sort of qualities that make you feel that you know her as a favourite maiden aunt.
Do you know or are an amazing original drag artist who should be featured here? Let us know through an email at darryl@dragqueens-oftheworld.com.