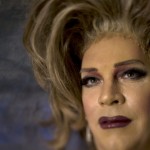 A DRAG QUEEN WITHOUT AN AUDIENCE DOES NOT EXIST! Therefore, in relation to our crowdfunding campaign, we want to invite you to several Drag Events this week, where you have a great chance to meet dragqueens, find out more about our project "Drag Queens of the World" and make diversity visible!
April 24th
Join "Getto Glam Variety Show" Thursday night with singing, games, fun and much more at Getto, Amsterdam.
April 25th
Start the King Day's celebration by joining one of the best outdoor festivals with great DJs, good music and excited audience at HOMOMONUMENT
April 27th
Radio 1 is going to broadcast the interview with Martijn Crowe about our project, diversity, the forthcoming book combining art & anthropological research and the crowdfunding campaign.
Remember that you have a unique opportunity to win the very first book by choosing your 10 favourite Drag Queens photos from our Flickr set and check the most recent updates, new photos and all the news on our crowdfunding campaign site.
https://www.flickr.com/photos/doingdreams/sets/72157643898159284/
https://www.indiegogo.com/projects/drag-queens-of-the-world#home