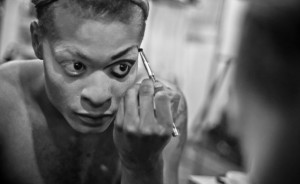 "GIRLS! GIRLS! GIRLS! Where is your music? Put it on my desk!" instructs Lily White, show director and emcee for tonight's drag show at Town House in St. Paul.
"I put my music on the stove," responds a quick-witted Camille Collins, a drag queen putting on her makeup in front of a floor-length mirror.
"We don't have a stove," Lily says, and the room, filled with half a dozen performers, erupts with laughter.