I born in 1991 at the capital of Bangladesh Dhaka. I grew up in a nuclear family with my mom and dad. I finished my high school from Dhaka and after my high school, I had to decide on what subject to undertake for my higher studies. In order to do something different, I decided to study fine arts. And just as expected, my family did not favor my study choice initially. They were against it in the beginning but later they managed to gradually accept my study choice. Currently I am studying in BFA final year Print Making at the faculty of fine arts, University of Dhaka. Besides my major I have an interest about new media art, photography and human rights issue.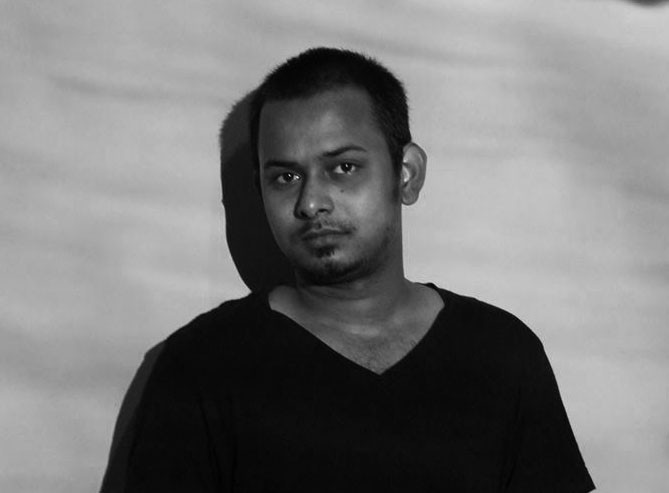 Since my adolescence, I got to discover that my sexual orientation is not like the majority, I found out that I am gay. I have constantly struggled to figure out my inner self and accept it with all my heart. This is quite a difficult task in a conservative Bangladeshi setting. But still I have never lost hope. I have got involved with various types of new social activities to keep myself busy. This is because I felt that my sexual orientation should not be the reason of differentiating me from others and stopping me from interacting with them.  I always believe that this different sexual orientation of mine has enabled me to harness the spirit of self-independence and made me capable of adapting to any kind of surrounding. Following my struggle to discover myself and advancing forward with my work amid all adversities, I am now confident that I do possess the ability to survive any kind of mental stress and challenges.
While I was studying in university, I have participated in various art projects and exhibitions besides my academic coursework. Now I am working with my psychological and surroundings. I created self-portrait and self-figure by using photo lithography and photo etching techniques. I walk the line between the reality and the artifice of self-analysis. I do not view self-portraits as mere illustrated recreations of the self; I frequently use my self-image as though I were an actor under the affectation of a role. My works are detachedly recording minute personal stories as though from a journal. In 2013 I went to USA for studying visual art for tow semester. This 2 semester helped me a lot to bring my inner soul in my work. I worked fearlessly whatever I wanted to do with my visual language. I always wanted to do work with my identity issue but though studying in a very conservative situation at Bangladesh it wasn't possible for me. At USA I got the freedom to explore my artistic thought and I became more interested in masculinity & identity issues. I always see art as a reflection of society which we can use as a means to identify and delineate our own beliefs and views, our own stories, and personal histories. By the use of the self-figure, I am seeking a candid and sometimes awkward intimacy with myself of being gay.  I am also working as a volunteer to promote human rights of sexual minorities in Bangladesh especially the homosexual community which is still not socially acceptable in the country. Now I am working with Dhaka Project and started my solo project about invisible gay community of Dhaka. The project aims to investigate views about same sex relation in Bangladesh by representing people's reactions towards this taboo issue on various social media. The law, religious belief and social view enforce homosexual people to hide their sexual identity under the fear of crime and violence.