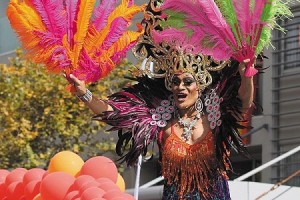 The cream of high-heeled athleticism battle for gold in the stiletto sprint and handbag toss at Amsterdam's Drag Queen Olympics
The stage is a blur of bright colours, big make-up, stilettos and wigs as I arrive at Amsterdam's Drag Queen Olympics. A huge crowd has already gathered at the Homomonument – a memorial commemorating all gay men and lesbians who have ever been persecuted – for this Gay Pride event, and the excitement is palpable. The music is loud and the crowd gets bigger still as the clock hands move steadily towards 7pm. Suddenly a roar goes up.
Do you know or are an amazing original drag artist who should be featured here? Let us know through an email at darryl@dragqueens-oftheworld.com.