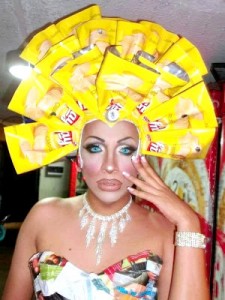 Translated from Spanish with google translate
Chicooooos for this occasion will present what was 11 THE ANNIVERSARY OF THE DOWNTOWN VALETODO DISCO and GAY PRIDE DRIVE 2012 in Lima Peru. We celebrated in style, die. For the anniversary we use a beautiful long dresses made ??of magazines and snack wrappers and cans of red bull, was a reasonable day largp. For use up the same theme is that these dates are always nearby. We started at noon, did not sleep very little because the day before my companions and I had at the club show in which we are living. But it was worth it because from there we went to the field of Mars with our dresses recyclable where we did a little show for the audience, then it went back to the club and although VTDT ended early in the morning I left very happy.
Click here to see and read more
Do you know or are an amazing original drag artist who should be featured here? Let us know through an email at darryl@dragqueens-oftheworld.com.