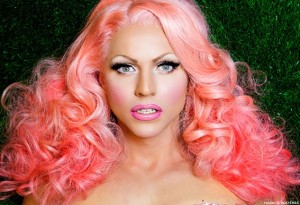 I first caught a glimpse of Courtney Act while at the Sydney Gay & Lesbian Mardi Gras back in 2007. Before the parade began, she was running down Oxford Street greeting patrons and having her photo taken. I couldn't tell you what she was wearing, but I can tell you that I remember thinking, woah, those legs.
By this time, Courtney was under a spotlight in the aftermath of becoming a finalist on the first season of Australian Idol, making her famous, especially in these parts of Sydney. After the competition, she signed to Sony BMG, and released her single "Rub Me Wrong," which broke into the Top 30 on the Australian Recording Industry Association Charts
Do you know or are an amazing original drag artist who should be featured here? Let us know through an email at darryl@dragqueens-oftheworld.com.