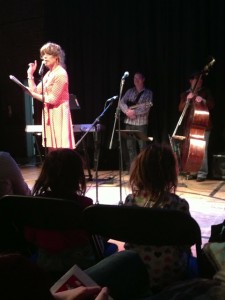 Philadelphia drag queen Martha Graham Cracker has an amazing voice with a personality to boot. The on-stage alter-ego of theatre performer Dito Van Reigersberg, Cracker / Reigersberg runs her own monthly cabaret, a self-described "dazzling and bizarre assemblage of musicians, actors, barflies, three legged chickens, (and) Hindu fakirs." She's performed for a variety of audiences, and recently received her first invitation to do a Dr. Seuss reading for kids at New Jersey child care centre in celebration of National Read Across America Day. Graham Cracker accepted the invite, and then, the centre un-invited her (if there's any doubt, because she's a drag queen). It seems as though the higher-ups at the child care centre did not approve of the original invitation, sent by the centre's supervisor.
To see more and watch the video click here
Do you know or are an amazing original drag artist who should be featured here? Let us know through an email at darryl@dragqueens-oftheworld.com.