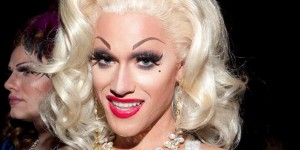 The leader of a Manhattan church has reached an agreement with the drag queens next door following a brief conflict. The Rev. Richard Baker of St. Malachy's Catholic Church in New York City rescinded his demand that the next-door Lillie's restaurant cease its "Breakfast at Epiphany's" brunch show.
This was probably a wise decision on his part — Epiphany Get Paid, the excellently named drag queen who sings at the brunch, was planning to lead a protest of drag queens outside St. Malachy's in response. S
Do you know or are an amazing original drag artist who should be featured here? Let us know through an email at darryl@dragqueens-oftheworld.com.