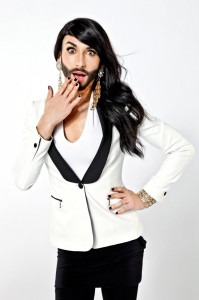 Drag artist Conchita Wurst—born Tom Neuwirth—has emerged as a favorite to win Austria's national selection for Eurovision 2012. She recently spoke with Wiwi via e-mail about gender and her Eurovision entry "That's What I Am." Here are the highlights of our conversation.
Can you tell us a little bit about the character "Conchita Wurst"?
First, I wouldn't call me a character, because I'm a real person. What you see is what you get 😉 Friends would say that I'm a very funny and loving woman. They are totally right! But let's start at the beginning. I was born in the highlands of Colombia. My parents took me to Germany where I had a wonderful childhood in Berlin. Four years ago I met my handsome husband Jacque in Paris. Love at first sight. We decided to start our new life in Vienna and here we are…still totally in love.
Click here to see and read more
Do you know or are an amazing original drag artist who should be featured here? Let us know through an email at darryl@dragqueens-oftheworld.com.