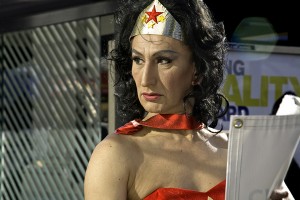 The Inaugural Champion of Dancing with the Drag Stars, (Maria Jose) Garza opens her one woman show 'Garza…This Is Me!' at the La Pena Cultural Arts Center (3105 Shattuck Ave, Berkeley Ca) this coming Saturday, January 23rd at 8:30pm.
Following her journey as Peruvian drag queen living in exile in San Francisco, Esta Soy Yo, acquaints us with the heart of Garza, bringing to life the many vibrant and iconic female artists that, in one way or another, have influenced her artistic career , together with the fights and triumphs over abuse, discrimination and intolerance through art and female impersonation, that shaped her not only a performer but also a Health Advocate, a Community Activist and a representative of the LGBT Community.
Do you know or are an amazing original drag artist who should be featured here? Let us know through an email at darryl@dragqueens-oftheworld.com.