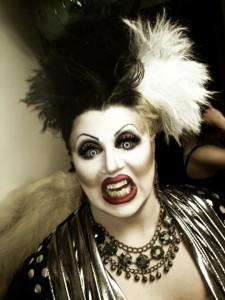 As a drag fan who loves nothing more than discovering a girl doing something fun, different and smart, I can't help but be super into Kitty Klottsalot. I was doing research on the Haus of Haunt for my interview with Sharon Needles when I stumbled upon this video on YouTube, and my life as a #KittyStalker began. What I love most about Miss Klottsalot is that her performances are complete art instillations from top to bottom, start to finish. There is always a broader intention in her work than just dancing and mouthing the words to a pop song; each of her pieces has a concept, elements of beauty, comedic parts, and the theme is always tied together by her choice of song, costume and props.
Click here to see and read more
Do you know or are an amazing original drag artist who should be featured here? Let us know through an email at darryl@dragqueens-oftheworld.com.