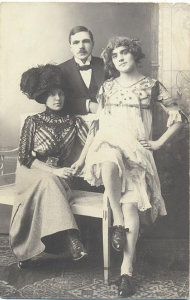 Family portrait – early 20th Century 
Sir Edwin and Lady Amanda Coathanger-Bovey knew that one day, their son and heir would finally go one step too far . . . they simply had no idea that Rupert was to behave in such a fashion at the photographer's studio. But what could they possibly do about it? Being English, they chose to ignore the fact that he was wearing women's clothes and make-up, and sat calmly through the session with stoic smiles on their faces.
Do you know or are an amazing original drag artist who should be featured here? Let us know through an email at darryl@dragqueens-oftheworld.com.