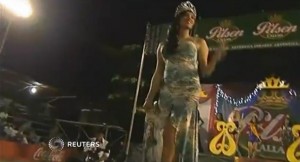 The contestants of Miss Gay San Juan 2013 engaged in the slugfest when a sore loser thought judges had announced the wrong winner. But instead of taking it out them, the rage got taken out on the crowned winner.
Local media said the crowd was shocked at the fight that took place during the Miss Gay San Juan 2013 event in Peru, which is otherwise a refined and elegant pageant.
To see more and watch the video
Do you know or are an amazing original drag artist who should be featured here? Let us know through an email at darryl@dragqueens-oftheworld.com.