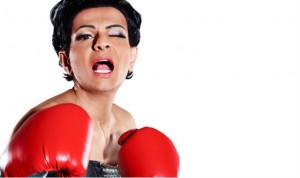 SINGAPORE — Kumar, aka Singapore's top drag queen (and Singapore Tourism Board-endorsed, he'll have you know) is performing in a new show called "What Makes a Man a Man?", produced by Dream Academy and written by Benjamin Lee and Jasmine Teo. Good question, isn't it, for the gender bender who has blazed trails dressed as a woman on stage? Artinfo catches the veteran comedian for a quick chat on all things manly and womanly.
To see more and watch the video click here 
Do you know or are an amazing original drag artist who should be featured here? Let us know through an email at darryl@dragqueens-oftheworld.com.