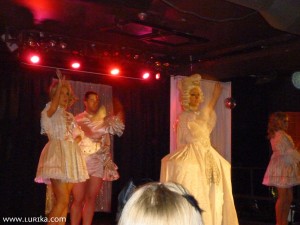 In Montreal, you can find a place to watch drag queen's show called Mado where you can get lots of fun and get some surprises from your boring regular life. The place has a show on every Thursday night starting at 10p.m. I've been there a couple of times. For people who like to see something special and something they've never seen before, I strongly suggest them to go there. If you have a student card, you will get half price discount for the entrance fee.
To see more click here http://www.lurika.com/2012/07/drag-queen-mado.html
Do you know or are an amazing original drag artist who should be featured here? Let us know through an email at darryl@dragqueens-oftheworld.com.