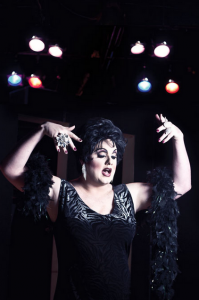 Drag queen Roxy C. Moorecox is my fairy godmother. I first called her last April when I was writing a cover story for Creative Loafing on the local drag scene in Charlotte. She became my guide to all things marabou-feathered. I called her with questions almost every day. She always answered without a hint of annoyance or exhaustion — including the time I literally woke her up. I even called her while she was hosting Trivia Tuesday. She held her cell phone up to the audience, saying, "Everyone, say hello to Joanne!"
When I asked Roxy to perform for my birthday last December, she planned an intimate cabaret-style set at The Bar at 316 for my friends and me.
Do you know or are an amazing original drag artist who should be featured here? Let us know through an email at darryl@dragqueens-oftheworld.com.