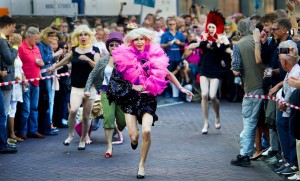 A much-loved feature of the Gay Pride celebrations
The Drag Queen Olympics are the world's premier Drag Queen sporting affair with events including the Handbag Throw, the 100m Stiletto Sprint and the Tug-of-War. Last year's competition saw 26 ladies from all corners of the globe come to compete in the Dutch Capital, with many world records shattered.
To see more click here
Do you know or are an amazing original drag artist who should be featured here? Let us know through an email at darryl@dragqueens-oftheworld.com.