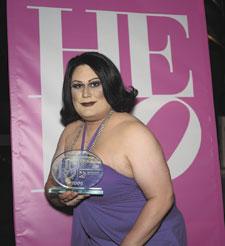 Joan-E
"I'm quite shocked. I only get awards from straight organizations. I also have to say I just think it's so wonderful that we live in a city where the Vancouver Police Department would bother to come [to our awards ceremony].
I just wanted to remind everyone that drag queens are the foot soldiers of this community and so many of them who never made a dollar off this community give so much of their time and so much of their talent, and when the shit hits the fan it's always to the drag queens that the organizations come a-runnin'."
Do you know or are an amazing original drag artist who should be featured here? Let us know through an email at darryl@dragqueens-oftheworld.com.