Only one week left until the end of our crowdfunding campaign, therefore we decided to offer you something special – our last and most exclusive perk – "The book Drag Queens of the World – just for you!". Why is it so special? Because YOU will be the only one in the world owning this book and YOU will be the one deciding what it consists of. It will be in the same quality as the DeLuxe version, and in addition, your name will be included, you can choose the cover photo yourself, and add additional photos of your choice from our Drag Queen-series. Moreover, if you dress up in drag yourself, we also add a photo of you. If you wish, we will also make an interview with you and add that + a photo of you with the book on our website.
So hurry up and be the first AND the only one owning this unique book!
https://www.indiegogo.com/projects/drag-queens-of-the-world#home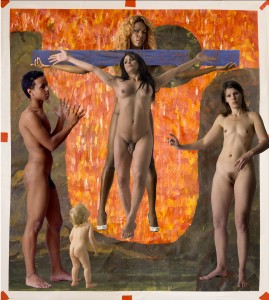 We also want to invite all of you to the vernissage in Amsterdam, the Netherlands on the 8th of June where a controversial photo collage inspired by Botticelli's work The Crucifixion of Christ will be revealed in the presence of the artist, Martijn Crowe.
Join us for the celebration of diversity and for the visibility of people who do not fit within the general standards in their country!
https://www.facebook.com/events/1448461428727955/?ref_dashboard_filter=upcoming