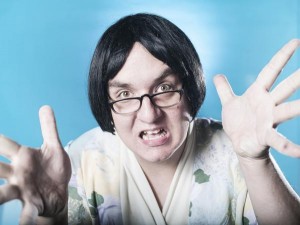 From critically acclaimed comedian Mike Delamont comes the hit one man show GOD IS A SCOTTISH DRAG QUEEN. A 2012 Just For Laughs Best Comedy Award Nominee, this show has sold out Victoria, Vancouver, Edmonton, Montreal, and Orlando and will finally make it's Toronto debut as part of the 2013 Toronto Fringe Festival.
Based on a character created by comedian Mike Delamont and Ride The Cyclone crator Jacob Richmond, God, dressed in a floral power suit, comes down to skewer everything from Justin Bieber and the Mayans to Monkeys and the Pope in an unforgettable hour of hilarity.
Do you know or are an amazing original drag artist who should be featured here? Let us know through an email at darryl@dragqueens-oftheworld.com.