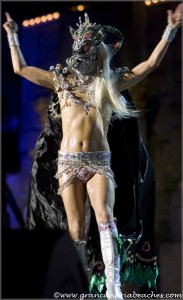 The Gran Canaria Drag Queen contests are the most unique and entertaining shows of the carnival. They are world famous and keep drawing attention year after year. The contests takes place in Las Palmas (the capital) and in Playa del Ingles, Maspalomas (south of the island) every February. The Las Palmas carnival contest is always held in Parque Santa Catalina, while the Maspalomas one is held at the Yumbo Centrum shopping centre.
Gran Canarians eagerly await this event. Many of those who attended the show, had to stand in the queue for lots of hours, to buy the tickets. Some even set up tents there, the night before. When the ticket booth opened, they were over in less than two hours!
To see more and watch the video visit 
Do you know or are an amazing original drag artist who should be featured here? Let us know through an email at darryl@dragqueens-oftheworld.com.