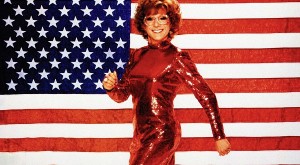 Before there was Mrs. Doubtfire, there was Tootsie. Tootsie is a movie that still stands the test of time to me. For those of you who haven't seen it, Dustin Hoffman plays an actor who is down on his luck and learns to drag it up in order to play a part on a successful soap opera.
I love that his look is really drag – he really doesn't look like a woman, but in the film everyone accepts him as a woman. In interviews today Hoffman still talks about how he finds it hard to watch women who can't walk in heels – it's heel toe, heel toe, honey!
Do you know or are an amazing original drag artist who should be featured here? Let us know through an email at darryl@dragqueens-oftheworld.com.