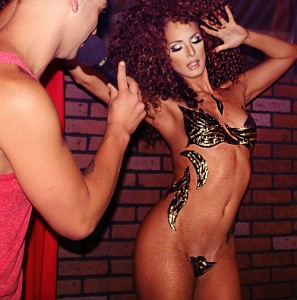 It's actually rather easy for a gal to dress up like a guy: slap on a five o'clock shadow, baggy pants, and a loose T-shirt and you're good to go. But when guys want to dress up as drag queens there's a little more…tweaking…involved.
Sometimes a dress will either be extremely tight or very short, which means you can't have your male parts hanging out all over the place and scaring little children.
Learn how to tuck your bits by watching this helpful tutorial by Petrilude.
Do you know or are an amazing original drag artist who should be featured here? Let us know through an email at darryl@dragqueens-oftheworld.com.