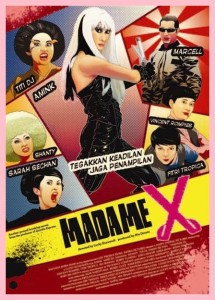 Outside of Superman IV: The Quest for Peace, it's really quite rare to see a superhero film in which any costumed crusader pursues an explicitly progressive agenda. The consensus amongst genre academics is that introducing realistic politics of any kind into a capes-and-tights stories inevitably leads to a discussion of fascism, as demonstrated by such works as Watchmen and The Dark Knight Returns. But that convention is being challenged in a very big and very loud way by Madame X, a recently released Indonesian film that tells the story of a superpowered drag queen who fights to protect minorities by preventing the election of a militantly homophobic political party.
To see more and Watch the video
Do you know or are an amazing original drag artist who should be featured here? Let us know through an email at darryl@dragqueens-oftheworld.com.