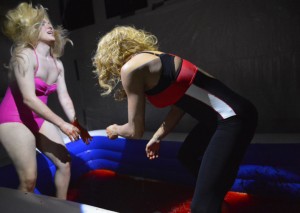 Cream Thursdays — the weekly gay night at Ivory Lounge — is celebrating Valentine's Day with a special night full of romance, cocktails, mood lighting and drag queens wrestling in a vat of Jell-O. Lady Liemont, Trixie Champagne and host Arica Love will fight for the, uhm, let's say "honor" of being the creme de la Cream when it comes to glamorous grappling. There's no cover and there will be free drinks from 10-11 p.m.
Ivory Lounge
1413 Main Street
Sarasota, FL, 34236
941-388-7869
http://www.ivorysarasota.com/
Do you know or are an amazing original drag artist who should be featured here? Let us know through an email at darryl@dragqueens-oftheworld.com.