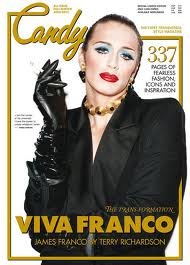 James Franco did a cover for Candy, "the first fashion magazine ever completely dedicated to celebrating transvestism, transexuality, cross dressing, and androgyny, in all its manifestations." With his hair slicked back and waxy red lips, our dear James (who is says he's not gay,
just gay-seeming and really into art) makes for a handsome woman, of the mid-career Liza Minnelli mould. Fun fact: Famed fashion pervert Terry Richardson photographed James in drag, according to this video Candy made to promote the issue.
Do you know or are an amazing original drag artist who should be featured here? Let us know through an email at darryl@dragqueens-oftheworld.com.