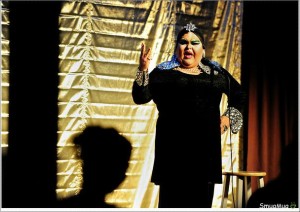 LONGMONT — Green glitter eye shadow and high heels are not part of comedian Todd Simmonds' daily routine, but they're everyday wear for his stage character, Mona Lott.
Simmonds developed a drag queen alter ego for a stand-up audition in Las Vegas but kept her around for her big mouth.
"I talk about a lot of popular trends and hot topics, and Mona can say a lot of things that I can't get away with," Simmonds said. "You don't mess with a 45-year-old, 300-pound man with boobs this big."
To see more visit and watch the video 
Do you know or are an amazing original drag artist who should be featured here? Let us know through an email at darryl@dragqueens-oftheworld.com.