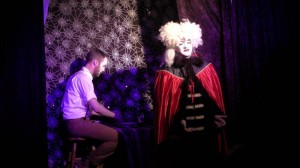 Key West, Florida (CNN) — It started in 1996 as a crazy idea to ring in the new year, but police nearly shut it down.
"They said, 'We have an idea: Let's do a shoe drop. … We made this shoe for you,'" recalled Gary "Sushi" Marion, the star of a weekly drag queen review in Key West. "'You've got to sit in it for New Year's Eve,' and I said 'OK,' and that is how it started."
So, on New Year's Eve, Marion took center stage inside a massive high-heeled red shoe made out of chicken wire, paper mache and plywood, dangling off the roof of the Bourbon Street Pub along Key West's main street.
Do you know or are an amazing original drag artist who should be featured here? Let us know through an email at darryl@dragqueens-oftheworld.com.