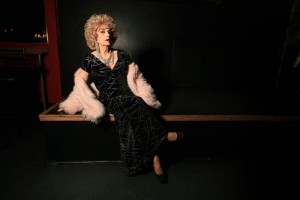 Michelle DuBarry (born Russell Alldread) poses on the stage at George's Play in Toronto on Monday, November 21, 2011. Michelle is known as "Toronto's oldest drag queen" and celebrated her 80th birthday on Wednesday, November 23.
Michelle DuBarry, the oldest of Toronto's legendary drag queens, celebrated her 80th birthday — or "Double 40," as she says — on Wednesday. Toronto's gay community marked the milestone with a gala and a tribute show at George's Play on Church Street. DuBarry, born as Russell Alldread, still makes her rounds of the Village and shares stories from when she was with The Great Imposters, a traveling drag queen troupe.
Do you know or are an amazing original drag artist who should be featured here? Let us know through an email at darryl@dragqueens-oftheworld.com.