Here on Dragqueens of the World we have met so many amazing drag artists, and we want to give you a more in-depth meeting with them. Our very first Queen in this serie will be Miss Didi Licious, who is internationally known and participated in the Dragqueens of the World project in Amsterdam.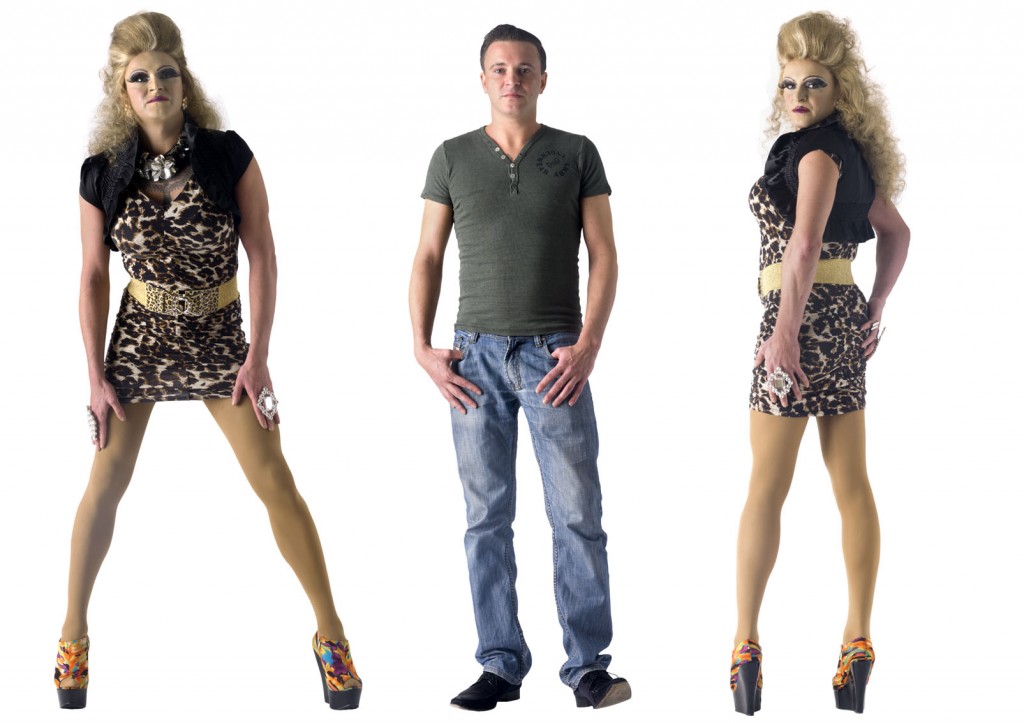 She has called bingo numbers; stopped the traffic in the Dutch capital's gay areas and entertained audiences with her backchat and glittering costumes at countless parties and major gay events. In short, Miss Didi Licious is an executive drag queen! In her high heeled life, she has been places that everybody knows and done things that many people should not know.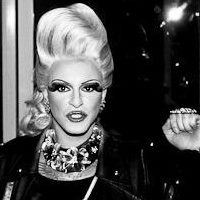 However, her career from dark room to green room and then stage lights was not an overnight phenomenon. It started on Manchester's Canal Street. Dressed as a French maid, her first sortie into the world of drag was at a party celebrating 20 years anniversary of the Rocky Horror Show. "Car horns tooted at me as I wiggled through council estate streets to reach the event." She explains. "Back then in 1999, taxi drivers would not stop to give me a ride. Today, the tables are reversed. But I do like my men to have proper manners and large personalities in the pudendum department."
From a Northern girl with only a modest future before her, Miss Licious expanded her horizons and cleavage by moving to Spain's Benidorm. In Drag Bar La Rue, she sparkled nightly with cabaret characterizations of Madonna and of the fast witted UK's Lilly Savage.
"The Spanish townsfolk used to scream 'guapo' or sexy lady at me. This reaction could have been provoked by my expansive German cancer in-plant breasts. I paid 250 Euros for them and I have to say that while passing my waters in the Gents' room, their occupation of my upper half was a visible challenge to my lower half!"

Dark side
"I can remember watching Marcia Jones, a well known Welsh Drag Queen legging it out in the Benidorm Bar and thinking: I want to be like that. The lights, the smell of the crowd and the roar of the makeup all convinced me that it was time to come join the Cabaret. But my move from male stud to stilettos was not immediate. I learned a lot of my stage craft from many other performers in sequined gowns and flamboyant hair creations. Being just a cock in a frock was never my intention. Being a Drag Queen means that the mask you wear has to be believable. The comedy comes when you let the mask slip and reveal the dark side of your sense of humor."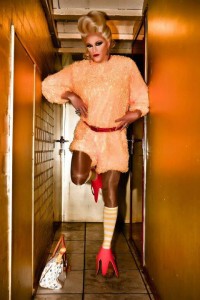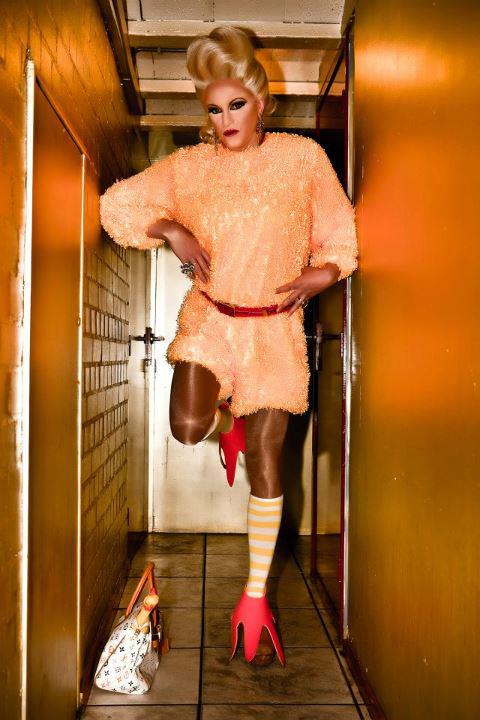 Today, Miss Didi Licious regularly enthralls audiences in the Dutch capital. Having first won Miss Lellebelle competition five years ago, her stock characters now embrace Amy Winehouse, Shirley Bassey, Patsy of ABFAB fame, Cher and a host of other celebrity icons. In addition to comedy skits, playback and stand ups with poisoned put downs, Miss Didi also works for various gay charities. She has even inspired one local restaurant to launch a Didi Licious turkey burger in her honor.
Regrets
Fame has not yet gone to her head. But she will be eating a head whilst dressed as a stabbed bride at a forthcoming Halloween party at Amsterdam's Spijker Bar. "I love that transformation from male to mask but there are still some things I regret about my life as an artist. Public transport can be a challenge. Just the other day on a tram I was almost molested by a man scratching his balls. Judy Garland never had that experience when she sang the Trolley Song. And once at a charity office party, I told an amorous clerk to pull out a drawer and file himself!"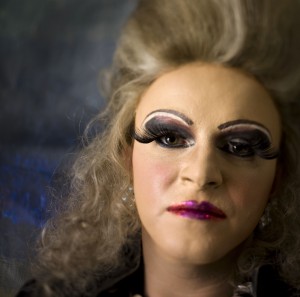 The future for this diva in drag seems very bright. "As the song goes, 'nobody loves a fairy when she is forty'. So as I mature in age, my characters will have to be mirrored on more realistic representations. Dietrich and Betty Davies are obvious personas for my stagecraft. Nevertheless, I have been told that my legs are the best in Amsterdam."
By all accounts, Miss Didi will be legging it out successfully for many years to come! "What's a good girl supposed to do?"
Miss Didi Licious performs and travels over the world, you are invited to see more of her on Facebook.