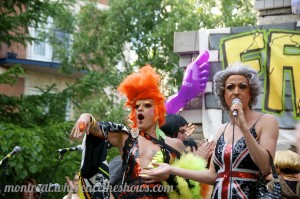 Drag Races. Nope, they don't involve overalls, cheap beer, exhaust fumes and country music.
Not during Montreal Fringe.
Last Saturday hundreds of spectators jammed the main Fringe venue at Parc des Ameriques to witness the best the Montréal drag queen scene has to offer. Which, evidently, includes makeup, alcohol (free pour!!) and tricycles. Oh and singing and dancing of course. And lots of wit.
Do you know or are an amazing original drag artist who should be featured here? Let us know through an email at darryl@dragqueens-oftheworld.com.