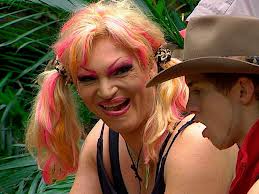 The "Jungle Camp 2013" is developing into a hot humid room blasphemous, especially drag queen Olivia Jones and Cat Mom Iris Klein . At the campfire, the two went on last night at full speed – it really got away right lubricant.
Apparently in the "Jungle Camp 2013" already formed several small groups. The blasphemous sisters Olivia Jones and Iris Klein poisoned especially against the triple Claudelle , Allegra and Fiona – but it was also not stingy with further criticism. The only person who was found to be cool meant suddenly Georgina .
Do you know or are an amazing original drag artist who should be featured here? Let us know through an email at darryl@dragqueens-oftheworld.com.