With pleasure we introduce to you Desiree dello Stiletto also known as Hans Wijtenburg, owner of the one and only dragbar in Holland: De Lellebel. With 30 years experience in the world of drag, she and he will share some of that experiences with you on our site. We are proud to present the very first column from Amsterdam: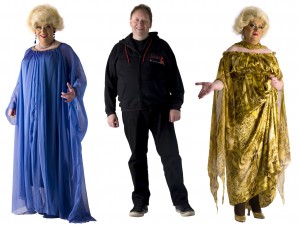 "When I got the request from Sabya to participate in this project, where I was to be photographed in drag, I was quite sceptic. As owner of dragbar "De Lellebel" in Amsterdam, I am used to get these kind of requests. Mostly from photography students who think they found Columbus' egg in photographing drag queens, making a brave attempt at originality for one or another school assignment. Fortunately, there is a whole new generation of young drag queens in Amsterdam who are perfectly capable to do that, and make beautiful pictures.
So I try to put off Sabya's request, and put it through to one of the many beautiful ladies who could participate in the photoproject of Martijn Crowe (artist name of Martijn van Oorschot), Sabya's partner. But Sabya was not put off so easily and tried to make the point that the way they work with drag queens is on a completely different level. I am still not happy to dust off my dresses for one or another photoshoot.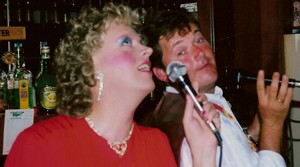 In 2013 I will be doing drag for 30 (!) years, the last 15 years running the only dragbar in The Netherlands. And only on very special occasions my wig gets  revised and my face pimped. Honestly, it becomes harder and harder for me to get into  the shoes of "Tante Dees", as my drag alter ego is called. Like I said, there is a a new generation of drag queens and during a show for a friend in the Achterhoek, a province in the east of Holland, a little girl called me "old kettle" – in all child like sincerity. I am no longer a magnificent rosebud about to bloom, but more like a horseflower which gave her last hope to the wind, in the shape of fuzzy seeds, which just have to wait and see where they will land. That's why I would have prefered to have thrown my alter ego in the wind all together.
However, Sabya's charm and persistence persuades me to reconsider her request. And after looking at their website, and her explanation that they really wanted to work with ME, I decided to go through with the photoshoot.
Not after I made sure that my best friend and support Esther would also be there and photographed though. Together with sister in crime Esther van Cartier, under the pretence "we can always make it a nice afternoon in De Lellebel.." we get ourselves to the Faketory, their studio in the centre of Amsterdam for the photoshoot. It is an amazing afternoon, and after we go to De Lellebel to close the day with some songs behind the bar. You can watch us here.
And the pictures? They speak for themselves…just take a look at the website Dragqueens of the World. Beautiful combinations, before and after the transformation. Something I really love as well are Martijns works with paintings and nudes, the Botticelli project. Those works get you in their grip and leave a hell of an impression. This is also a project that doesn't meet his equal in the world. The combination of the paintings with the photography that makes one artwork is very special, like the fresco with the transgender that symbolises Jezus on the cross.
Martijn wants to show in his work that every person is unique and differs from everybody else. Portraying Drag Queens is obviously a perfect way to express this diversity. These drags are often a work of art in itself. Through sometimes outragous make up a drag queen expresses her own being, which makes her different from all other on this planet named Earth. The message is clear: humanity is divers, allow this diversity in yourself and differ from anyone else by developing this attitude.
Yours truly, untill next time,
Hans Wijtenburg a.k.a Desiree dello Stiletto a.k.a "Tante Dees"
Hans is one of our many good friends and valuable supporters, and you can become our supporter as well – contribute to our crowdfunding at https://www.indiegogo.com/projects/drag-queens-of-the-world/