Jack of all trades and glamour queen from Hamburg, Germany.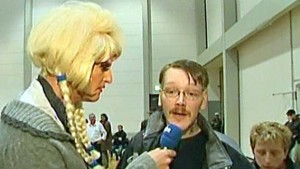 Olivia removes the dust of Germany's image and messes things up. Fun is guaranteed where she is. It started in 1997 when she had her breakthrough as 'Miss Drag Queen of the World' at the contest in Miami. Since then she's become more and more a figure of the public. Olivia is not only popular for glitter and glamour but also her political and social commitment. Famous is her appearance as a journalist unmasking the NPD (right wing populist party). In 2007, she challenged representative of the NDR (Northern German public broadcaster) the neo-Nazis on their election prelude with naive questions. NPD – top candidate Andreas Molau wasn't even able to answer why he should be voted for. Maybe he was distracted by Olivias innocent disguise as BDM-girl with blond braids and grey pleated skirt.
Do you know or are an amazing original drag artist who should be featured here? Let us know through an email at darryl@dragqueens-oftheworld.com.