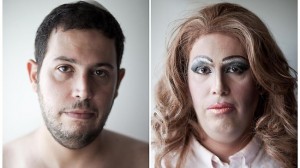 JUST shy of midnight, Shahar Hadar trades his knitted white yarmulke for a wavy blond wig and a pink velvet dress.
Cheers greet him in a packed gay bar as he starts to swivel to a Hebrew pop song, his shiny red lips mouthing lyrics that mean more to him than the audience knows: "With God's help you'll have the strength / To overcome and give your all."
Do you know or are an amazing original drag artist who should be featured here? Let us know through an email at darryl@dragqueens-oftheworld.com.