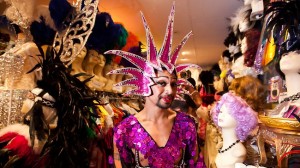 If you're not comfortable with cheeky (giant) trannies, nudity or F-bombs being dropped left, right and centre, then it's best to leave Briefs alone.
The Brisbane-based all-male troupe has returned to Parramatta's Spiegeltent for Sydney Festival and, as host Shivannah puts it: "It's a bit butch with a f…load of camp."
Do you know or are an amazing original drag artist who should be featured here? Let us know through an email at darryl@dragqueens-oftheworld.com.