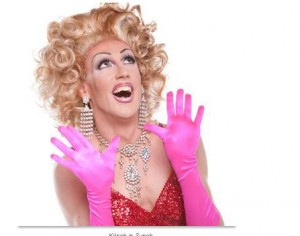 In Kitsch in Synch, housewife Pollyfilla expresses the drag of her inner longings in her lounge room through lip-synching to songs and dialog from films and TV.
Lip-synching doesn't have the best reputation thanks to famous frauds ranging from Milli-Vanilli to Julie Anthony at the 2010 AFL Grand Final, but done well, say in Drags Aloud's Grease, it can be very entertaining. Taking on a solo work shows a particular, well, eccentricity, but don't crease your gingham because between some cooking, manic dancing, and un-suburban psychedelia, we can't help but sympathise with Pollyfilla, a prisoner in a house-dress.
Do you know or are an amazing original drag artist who should be featured here? Let us know through an email at darryl@dragqueens-oftheworld.com.