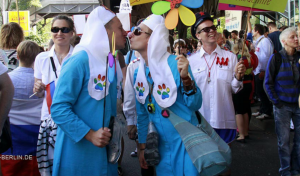 Known as CSD the LGBT event in Berlin is, next to Cologne Pride, one of the biggest pride parades in Germany. The motivation is political as this year's motto demonstrates: 'No more platitudes! Demonstrate! Vote! Change!' but the appearance has great similarity to a carnival parade. The big parade with floats on june 22nd, is accompanied by different events such as the CSD gala on june 14, the Berlin Pride Festival (june 1st until 22nd) and a number of parties. It's the best example that political commitment can be great fun!
The organizers of the event welcome political activities around the event.
Do you know or are an amazing original drag artist who should be featured here? Let us know through an email at darryl@dragqueens-oftheworld.com.