Here on Dragqueens of the World we have met so many amazing drag artists, and we want to give you a more in-depth meeting with them. Our very first Queen in this serie will be Miss Didi Licious, who is internationally known and participated in the Dragqueens of the World project in Amsterdam. 
We from dragqueens of the world met Rena and she told us about her life.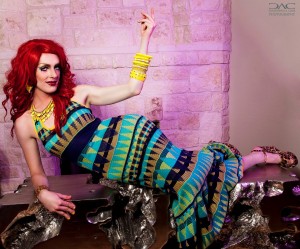 Rena:
I began being interested in Drag at a very young age. I grew up in the world of Music and Theatre, and naturally hair, makeup, and costumes went along hand-in-hand. My parents exposed me to the Rocky Horror Show and Hedwig by the ripe ol age of ten. I wanted the glamor, the spectacle, and the celebrity of it all.
As I grew older, I started to take my theatre and dance performance experience, and pair it with what I was really interested in. Out of this melting pot of ideas and memories, came my drag persona Rena Nevado. One part ingenue, one part glam-rocker, one part ballerina, and one part haunted house, that's what Rena Nevado is made of.
I started performing in Drag in Austin, Texas, my hometown, less than one short year ago. In that time, I've competed in one USofA pageant (Most Beautiful, 2nd in Interview), one competition, been cast in 2 shows as full-time performer, performed at Austin Pride 2012, and am now working on a Benefit for Aids Services of Austin. I get to do what I love, and may actually have to start turning down THA GIGS due to my school schedule. Did I mention that I'm a full time student and Manage a Restaurant?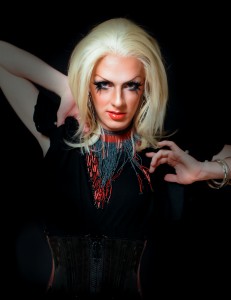 My transformation takes a few hours. The face is the first, and perhaps my most favorite part of drag. I LOVE makeup, and never have enough room to store it. I find that when painting, I get lost in my own world, and its one of the few times I'm actually quiet. Then body, hair, accessories. I'm a padded queen, sometimes. However, there have been a few times where bare leg has been seen.
Old Theatre and Music is a huge inspiration for me. I love Iconic women, and real women. I think it is far more entertaining as a performer and audience member alike to be involved in a number that has a backstory, rather than just another song and dance. I am most proud of a portrayal of Anne Boleyn that I got to create and perform for Austin's The Bovary Revue. I took her documented correspondence with Henry VIII and created a portrayal that involved, dance, theatre, and live singing.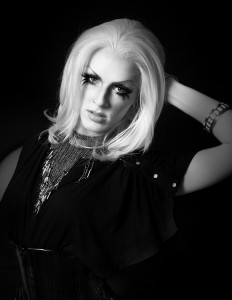 In the future, I would like to move towards more live music and continue to strive to show acts that break the mold of 'typical' drag. Magic and Live Music are things that I would like to incorporate more in my performances, as well as getting more into the world of comedic theatrical numbers. Parodies are something I'm really interested in as well, and would like to start writing some of my own. I'm sure I'll do so when I get inspired to do something in particular.
Pet Peeves:
-Poor Lipsyncs – its the foundation of what you're doing.
-Seeing the same style of number repeatedly
-Rudeness – We're all here to celebrate our community, and cattiness is unnecessary
-Unpreparedness. People need to know when they're scheduled, what day, time, and where they need to be. If you can't keep up with your own schedule, lighten your load. Not being punctual is a big peeve.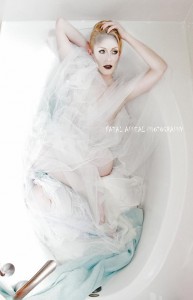 Final Thought on Drag: Drag is such a liberating experience, and I think it can involve so many people on many levels. It can include comedy, music, dance, and can showcase or hide anything that you want. Above all, I believe that everyone deserves to be the center of attention and the star at least sometime in their life. I'm so glad that my hobby affords me all of these things on a regular basis, and I wouldn't have it any other way.
You are invited to see more of her on Facebook.