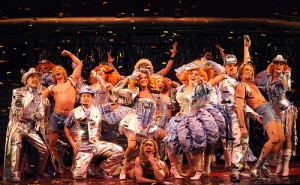 Priscilla first came to Edinburgh in 1994 when the original film premiered at the EIFF, causing all manner of riotous cross-dressing behaviour at that year's opening party, when the golden invites requested "black-tie or drag".
Almost 19 years on and the Queen of the Australian Desert is back and she's a musical. With, it seems, even bigger dresses, louder make-up and yet more pumping music to lip-synch to.
Do you know or are an amazing original drag artist who should be featured here? Let us know through an email at darryl@dragqueens-oftheworld.com.