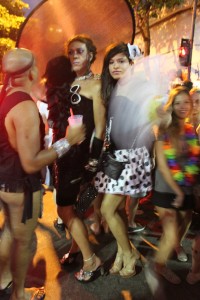 by Jessica Marati
At Carnival in Rio de Janeiro, it was common to come across fully made-up men who had traded their Havaianas for high heels. Though some were experienced cross dressers and drag queens, others saw the holiday as an opportunity to get in touch with their more feminine sides. Costumes ranged from the elaborate (Sambadrome-style feathers, stilettos, fake lashes) to the scrappy (tiny skirt, hastily smeared lipstick).
Regardless of the intensity of their get-ups, you had to give it up to the cross dressers of Rio Carnival. I certainly couldn't do a bloco in heels that high. The photo gallery below showcases ten of the hottest drag queen costumes that I encountered.
Click here to see and read more
Do you know or are an amazing original drag artist who should be featured here? Let us know through an email at darryl@dragqueens-oftheworld.com.