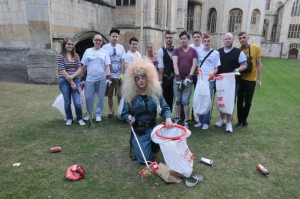 VOLUNTEERS have proved that litter picking does not have to be a drag.
They joined forces to tidy up the grounds of Gloucester Cathedral, which unruly teens are using as a rubbish dump.
And they were led by drag queen Monica Tension from the nearby Westgate pub.
Regulars from the pub, which sits in the shadow of Gloucester Cathedral, were out in force picking up litter as part of the big city clean up.
Do you know or are an amazing original drag artist who should be featured here? Let us know through an email at darryl@dragqueens-oftheworld.com.