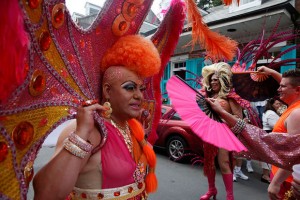 Walking as quickly as she could in her sequined silver high-heel boots, Electra City stalked down Bourbon Street on Sunday afternoon, heading for the start of the Southern Decadence parade. Although she was in a hurry, the drag queen couldn't help stopping whenever someone wanted to snap a picture.
She was an obvious target for anyone with a camera, starting with her towering orange-and-pink wig and the orange and pink boas that hung from her shoulders, front and back, encircling her torso but not quite hiding her sequined mini-dress. Despite the 90-degree heat and wiltingly high humidity, she wore three pairs of black tights.
Do you know or are an amazing original drag artist who should be featured here? Let us know through an email at darryl@dragqueens-oftheworld.com.