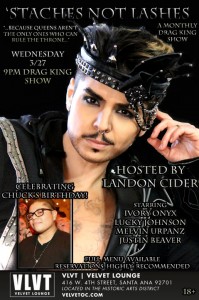 Making his debut in 2009, Landon was quickly named "So Cal's Premier Drag King" and most recently named MiX MI of the Year 2012. Landon has been selected Drag Performer of the Month in both WeHoConfidential.com as well as SoCalDragScene (Los Angeles, CA) He will also be featured in 100 Most Influential Gay Entertainers set to be released this year.
Landon has become one of the Nation's leading Male Celebrity/Character Illusionists, mastering the makeup & performance style of diverse impersonations such as George Michael, Pitbull, Adam Lambert, Tim McGraw, Beetlejuice, Freddy Krueger, Chucky ("Childsplay"), as well as many original characters/parodies.
To see more and watch the video visit 
Do you know or are an amazing original drag artist who should be featured here? Let us know through an email at darryl@dragqueens-oftheworld.com.