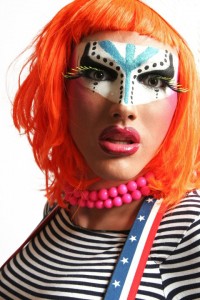 I've dragged these pictures kicking and screaming from the archives. They were taken way back when I started doing photography. However the interview was done earlier this week. The drag queen in question is the fabulous Cherry Lane…
10 thing that inspire you outlandish outfits.
Grace Jones, Marylin Manson, a car crash on crack, punk Burlesque, scrapheap challenge, haters, lovers, plastic, hot glue. Myself.
How do you deal with copycats?
Copy cats serve their purpose. They make you more creative in the sence that they make me change my style again in order to be as unique as possable.
Do you know or are an amazing original drag artist who should be featured here? Let us know through an email at darryl@dragqueens-oftheworld.com.