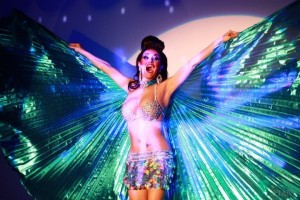 To see the beautiful young woman bounce into the dressing room at PLAY Dance Bar in a chic sundress and strappy flat sandals, no one would guess Sara Andrews started her drag career as a comedy queen. Much less because she didn't think she was pretty. "Not that comedy queens can't be pretty too, but I didn't think I could pull it off," she recalls from backstage at her home showbar in Nashville. "So first there was comedy, then I grew into 'this'," Sara adds with a laugh.
Click here to see and read more 
Do you know or are an amazing original drag artist who should be featured here? Let us know through an email at darryl@dragqueens-oftheworld.com.